Established in 1970 Leighton Aerials has over 49 years experience in the aerial installation and satellite installation industry. We registered as a limited company in 2009. All of our engineers have a minimum of 10 years experience as aerial installers.
The previous owner Colin Taylor took over Leighton Aerials in 1999 and has over 25 years experince in the industry starting out as one of the very first engineers to work for Sky when it was known as BSKYB.
The current owner Russell Linger first started working for the company in 2004 and has a wealth of experience in all aspects of the business
We are fully insured with cover of up to £5,000,000 to work on all types of property, commercial and domestic.
Leighton Aerials experience within the TV aerial installation & satellite TV installation industry encompasses a very wide spectrum ranging from design, installation and maintenance of domestic and commercial Digital TV systems
We pride ourselves on our highly qualified, dedicated and friendly local family business. We know you have a choice! That is why Leighton Aerials are building the best, most reliable and genuine TV aerials & satellite installation company in East Anglia and the Home Counties, you can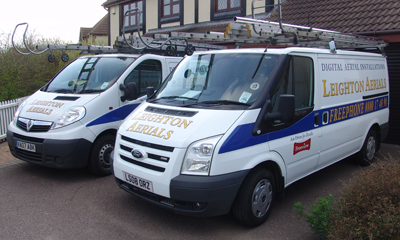 trust our aerial installers at Leighton Aerials to do a good job
Leighton Aerials goes to extraordinary lengths to make sure our clients are kept happy. We have high standards in all our work and make sure you have the best possible service. As we have built our reputation on reliability and customer satisfaction the majority of all our work comes from recommendations, so we always make sure our customers are fully satisfied and happy with our work.
Leighton Aerials is a family run business and our engineer's are locally based so we have the very best knowledge on signal reception in your area, so therefore we can provide a quality service, trouble free and with great confidence.
We give a 5 year warranty on the majority of our aerials and pass on the manufacturer's warranty and we have our own guarantee on labour. We do not use insurance backed warranties as we prefer to remedy any issues under warranty ourselves.
We now offer a delivery service for all aerial and satellite parts for customers who wish to do their own installations. Please contact us to discuss your requirements. We will ship same day where possible or next day subject to stock avalability.